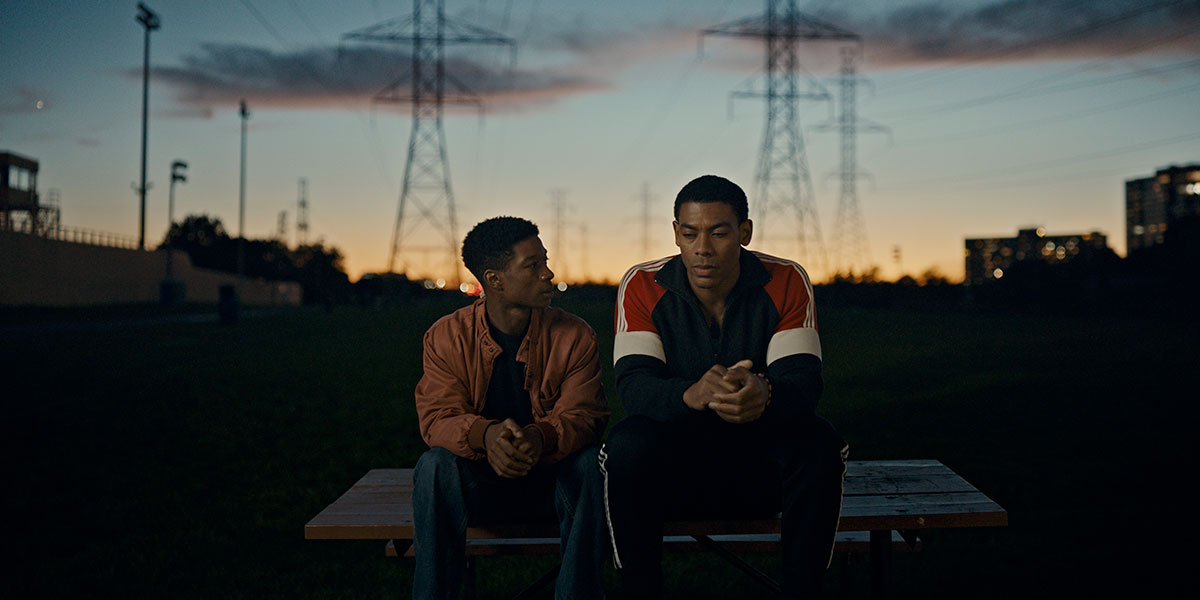 Two Jamaican-Canadian brothers from Scarborough, a neighborhood in Toronto, watch a booming transmission tower. The older brother Francis (Aaron Peter"The Underground Railroad") explains to his younger brother Michael (Lamar Johnson"The hate you give") that the higher you go, the more the reverberations of electricity buzz and shake you. If you make one wrong move, it can instantly fry you. But they can reach the top for the best view in the area if Michael follows Francis' every move. These inseparable siblings couldn't be more different; François is handsome, broad and fearless. Michael is hesitant and tiny. Nonetheless, the pair trust each other implicitly. And they begin, step by step, to climb the tower which will become a metaphor for their lives.
READ MORE: TIFF 2022: 16 must-see movies at the Toronto Film Festival
Fast forward ten years, and Michael is no longer a wide-eyed teenager. He meets an old friend from the neighborhood, Aïcha (Kiana Madeira"street of fear"), who came back to stay with Michael and his calm and confused mother (a gorgeous Marsha Stephanie Blake"I am Your wife"). For reasons that are initially unclear, Francis left. His departure left a hole in the people who knew him. And they have to find a way to deal with the loss that still lurks, like those buzzing power lines.
Veteran Canadian director Clement Virgo "Brother,"adapted from David ChariandyThe novel of the same title is a film about memory and grief, stasis and regret, told in a low voice and with nostalgic poeticism.
"Brother" covers a period of about twenty years. We see Francis and Michael as children consuming nightly news that alerts them to the presence of a few local killers on the loose; this update leaves Francis with a buried fear that reappears in adulthood in ways he cannot foresee.
Ten years later, in 1991, the brothers are high school students. The popular and muscular Francis – a music lover who dreams of being a famous MC like Dr. Dre – often protects the calm Michael from local bullies. Despite his best efforts, however, Francis cannot fully protect his younger brother from the encroaching violence of the gangs and the predatory police who hunt them down every night. Day after day, this pressure is exerted on the imposing shoulders which hide the tender heart of Francis. Michael, on the other hand, has a crush on Aisha, a Luso-Jamaican teenager who offers the shy child some solace away from the startling uproar.
In the question of Francis' fate, the film builds up tension like thunder on the edge of a storm. The evocative score of Todor Kobakov ("born to be blue") fingers crossed with the lyrical folding of these siblings' lives, from childhood to post-tragedy, bathed in warm, radiant tones, visually and audibly explaining how grief resonates like moss growing on your heart. The organic nature of the music makes "Brother" the spiritual cousin of by Barry Jenkins "If Beale Street Could Talk." Both films center on families frozen by the loss of a brilliant and fearless loved one, and both show the joy and pain experienced by those left behind in plaintive and beautiful ways.
Every inch of "Brother" is lived through with Virgo's attention to detail. We explore and tour Scarborough – from the cold, vicious streets to the natural shelters found in transmission fields and along the bustling brook – to the point that we know the area like a close friend. The complicated space these characters occupy – a neighborhood rich in Caribbean spirit, culture and community but overburdened by the threats that await these first-generation Canadians – conveys the sense of inevitability felt by each character.
READ MORE: Fall 2022 preview: Over 60 must-see films
You see, Virgo is too smart a filmmaker to tell the stories of these characters in blunt terms. Instead, it covers loss of identity, childhood fears, the unyielding toll of racism, and a longing for home and family with subtle and powerful visual phrasing from DP. Guy Godfree. "Brother" moves at a leisurely pace, which can admittedly slow down to a crawl. But the ability to thoughtfully swim through the memories shared by Francis and Michael — the search for their absent father and their mother's rapid breakdown after Francis' disappearance — is worth the extra time.
It's hard to single out a single performance in "Brother" because it's probably the best ensemble work you'll see all year. Johnson's transformation from shy teenager to crumpled and bitter adult is powerful. Madeira is charming and casually bright as the only remaining glimmer of this group of friends. Blake pulls together a performance whose gamut – from exuberant to defiant, lost and confused, and utterly broken – serves as a fulcrum to the many evils piled upon immigrants by a land they thought was better. And Pierre, an actor who first impressed in "The Underground Railroad" as Caesar, gives a spin here that fully introduces the creepy talent within him. Each movement contains about three different layers of feelings, hurts and dreams. How can a seemingly invincible man be so frightened that he hastens his own downfall? Pierre traces this difficult path with disconcerting ease. He is the misunderstood Frenchman. He's every scared black kid who uses costumes of masculinity to protect him from the unforgiving world.
All of these performances, especially the actors' physical translation of the years and fears they endured and the weight they carried as black men and women in a hostile neighborhood, are so tangible and familiar that they are never forgotten. There are unforgettable moments when you just want to kiss everyone on screen, if only to know that everything will be fine. As the film ends – tearing your heart out with a gorgeous montage that caresses the bodies and aspirations of these graceful-eyed blacks, tuned to the hypnotic notes of At Nina Simone's "Do not leave me"—Virgin's "Brother" leaves you bewitched and grateful. Grateful for a filmmaker who cares deeply about the inner lives of black people. And the light that shines in them. [A]
Follow all our coverage of the 2022 Toronto International Film Festival