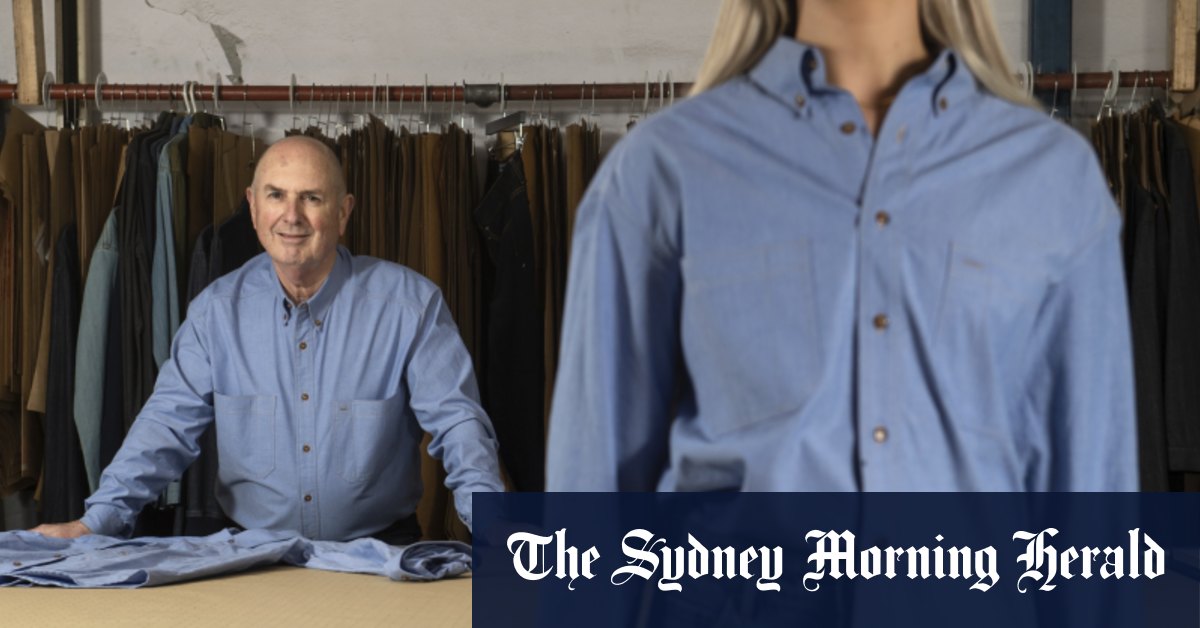 "We really wanted to work with Steve, and he helped make that happen, while being pedantic about color, weave and detailing," says Roseby.
It took nearly nine months for a sample to be completed, as the team struggled to find Australian cotton long enough for the weft, the right gold yarn, as well as patterns for the double pockets and the long signature collar. The time was added by the search for the green and cream fabric of the Country Road Workwear label.
"We ended up working with the brand's original suppliers, Cash's in Leongatha, who were able to recreate the green and cream of 1984," says Vogelpoel. "Hard work was our obsession to replicate everything as close to the original as possible. When Stephen Bennett said the quality was better than the original, we all felt so proud.
There have been minor tweaks, with the volume of the shirt subtly reduced, without detracting from its oversized appeal.
"About 10cm was taken off the back because everything was five sizes too big at the time," says Vogelpoel. "But we kept the spirit and the authenticity. Everyone in the office already wears them.
Returning the shirt has renewed my ties to a lost love, but for Roseby it's about opening up Country Road's relationship with local manufacturers alongside its current supply chain, which includes Bangladesh, China, India, Indonesia, Italy, Kenya, Madagascar, Pakistan, Poland. , Portugal, Slovakia, South Africa, Spain, Sri Lanka, Taiwan, Thailand, United Kingdom and Vietnam.
Loading
"Local production is here to stay and something we will continue to support," says Roseby. "As demand grows, we need to work with local suppliers and build more trust around equipment and personnel. This is something we are committed to. »
I'm ready to get down on one knee and hit the Chambray Country Road – but don't tell my Bassike denim shirt until we talk.
Get the most out of your health, relationships, fitness and nutrition with our Live Well newsletter. Receive it in your mailbox every Monday.