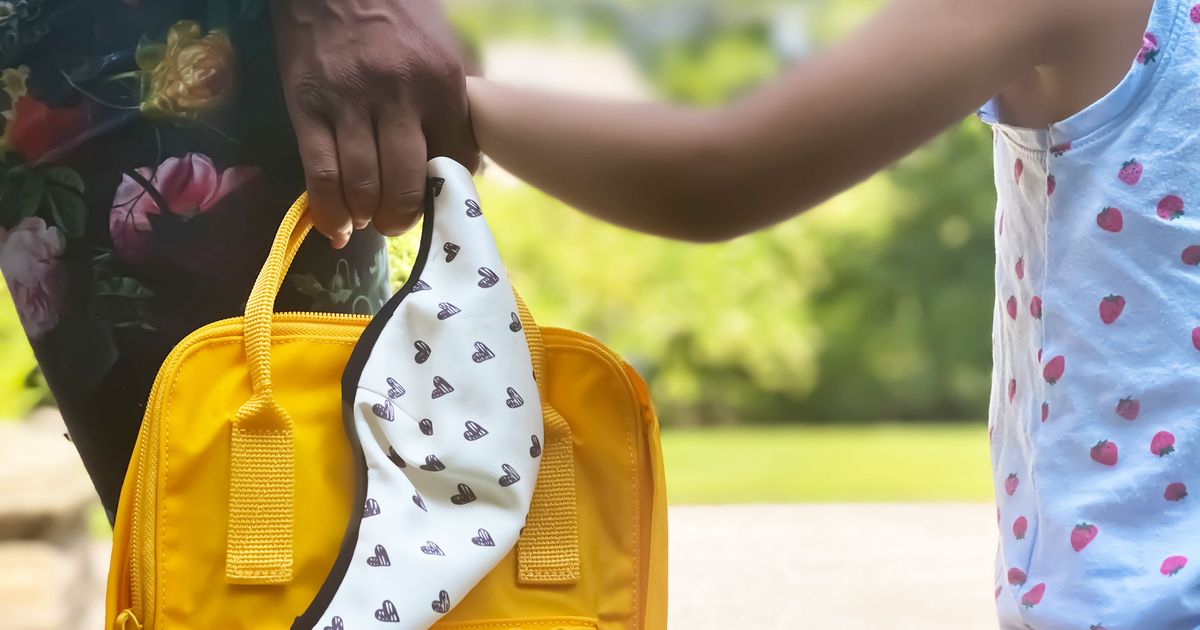 Photo: Catherine McQueen / Getty Images
Being a parent has never been exactly easy – but now in The After or whatever, it looks like a maze. Like an endless quest with twists and turns. Accompanied by a cry in the abyss. Teaching at home, encounters tinged with paranoia, the fear of what isolation does to development. It's too much. And despite the rollout of the COVID-19 vaccine this spring and new office vaccination mandates, the Delta variant continues to be a major threat (especially to vulnerable communities) as it proves to be more contagious and in some cases. , more deadly. To make matters worse, there is so much conflicting information about how the variant affects children and what steps parents need to take to protect their children. Accompaniement all that Outside, there is also the problem that state and school mandates have been inconsistent, leaving many parents to fend for their children's health on their own.
And so, here we are in a new phase of worry. Parents are now forced to monitor their children's interactions with the outside world more closely, as the outside world relaxes, sometimes prematurely. Even more frustrating: there are no rules. Each family is responsible for setting their own strict limits on schooling, childcare, extracurricular activities and more, without any help.
The Cut spoke to five parents about how they are managing their family's social life amid the threat of the Delta variant and what they are doing for their children's health in the months to come. Ultimately, there are no "right" answers, as much of the pandemic – and its aftermath – is still unknown, and every parent is doing their best to understand what works for them and what works for them. which does not work.
Our family has all had COVID-19. A friend of my son's tested positive this summer. So we all went to get tested and despite the fact that our parents were all fully vaccinated, we all tested positive as well. As soon as we found out we were exposed, we informed everyone we had been in contact with and started quarantine. Vaccinated, she was relatively benign. My son was not yet eligible for the vaccine, but luckily he never had any symptoms. This is not true for all children and all cases, and so after quarantining the ten days, we maintained the masking and tried to spend as much time as possible with friends outside.
At first he only saw one other child and our two families allowed the children to play without a mask. This summer, that circle grew to about three families, but they were also playing with others outside without masks. He goes to school and always wears a mask because those are the rules. He swims in a pool without a mask, but usually we wear masks in places where we don't know people.
What my son missed most were his friends. It is not the same without social interaction. Human beings are like the oxygen of our family. So this pandemic has been exhausting, frustrating and hard for all of us. But I know we'll come back to that and also cherish the time we've spent together and the appreciation we've learned to have for simple things like having friends over for dinner.
A friend told me the other day that she felt like this pandemic had robbed her of the childhood she had always imagined having children, and I totally agree. At the start of the pandemic, I would say I was grateful that my oldest daughter was so young and couldn't remember any of this. Now I know some of his earliest memories will be of a COVID-19 world. My oldest was not even two and a half years old when it started. Our youngest will always be known as a pandemic baby now.
Since the start of the pandemic, we have stayed a lot in a small bubble made up mostly of a few family members who live nearby. Our oldest daughter was attending a home daycare (five children aged 12 weeks to 4 years), but in May we transitioned to a center for her so that she could be with other children her age and have more curriculum-oriented. It was an agonizing choice, even though the center had implemented many mitigation practices. In the end, we sent her, and honestly, we just prayed that she would stay safe. Our baby will go to the same center at the end of October. Every day we have to fill out a questionnaire that asks about symptoms and exposures, and temperatures are taken at the door.
We received two notices indicating that staff or other children tested positive, but not in our daughter's class. With the first notification, I was 38 weeks pregnant and our daughter came home with symptoms, and we chose to keep her home and get her tested. It was the most heartbreaking feeling to see our daughter get tested, even though she did it very well. Fortunately, her test came back negative and it was just a summer cold. I have never been so grateful that she is sick with a "simple" cold.
While my husband and I, along with our family members in our little bubble, are all vaccinated, we all remain vigilant about wearing masks and washing hands. Whenever we're inside the premises with our daughter, which to be honest isn't often, she hides herself and so do we. And she masks herself like a champion. No complaints. She knows and understands that we wear masks to protect ourselves and others from the "big germ". We also explained how each family is different and some families choose not to wear masks, but have our family wear them.
My children's medical team said contracting COVID-19 could be harmful to them, so that said, they were pretty strictly quarantined at home with their families. The only exceptions are the three consecutive days they are in our local children's hospital for 10-12 hour infusions each day each month and a (very) few visitors to us who are vaccinated, tested with negative results, and are masked and social distancing during visits.
To keep morale up we have created a fun backyard space for the family, but with the heat we spend most of the time indoors and try to respect everyone's privacy. We have a noise machine to help with private virtual dates and virtual tours with friends. We are not comfortable with the use of an outside service (such as babysitters or food delivery) coming inside our home.
My children are tested often – every time they have procedures in the hospital, it is mandatory. Whenever family members come in contact with high-risk or unvaccinated people, we are tested before we go home.
For school, it was online classes for everyone until the last few weeks. One of our daughters is a junior in college and recently returned to class in person. She attends a private college that has very strict COVID-19 guidelines in place, and they actually adhere to them (meaning no one is allowed on campus unless a student, professor or the like. have permission).
This pandemic has been tough on the social aspects of life. The very few times they interacted with friends, it was virtually. Birthdays, holidays, graduation ceremonies and other special occasions that would normally have been shared with family and friends were only shared with those at home. I think a lot of social growth for their individual age has been hampered compared to its expected progression. Although I have my doubts, I really hope we can all make up for lost social growth as this pandemic is overcome.
We have decided to keep our youngest at home this year instead of starting him in kindergarten. It was a decision we could control during the pandemic and we felt most at peace about it. Most mornings the boys and I will have "school," which involves drawing letters and numbers, learning colors, and doing some kind of crafts. It helps to structure our day and to prepare [Mason] for kindergarten next year.
We took Mason from kindergarten to homeschool because of the mask mandate. We weren't comfortable with the fact that there were about ten or more children and several unmasked adults. On the other hand, we weren't comfortable with him being masked for more than three hours. He does well with a mask for a short shopping trip or a doctor's appointment, but we didn't want to have to wear a mask for a long time. We are extremely lucky to be able to homeschool, but we hope he can go to school in person next year for the social experience.
We recently moved from Kansas City to Minnesota so we don't have any family in town. We have two families with young children who we spend time with (their fathers are also residents in Mayo). We mainly do outdoor activities, and if we are indoors in a public place, we will wear masks except for my 2 year old. All adults have been vaccinated and we are careful not to meet if anyone is sick. It's so nice to see our kids playing with other kids again, and I know it's so good for their mental health.
My twins were born in March 2020, so pandemic life is all they know about. Since they were premature, we were very careful during their first year with extremely limited interactions. Once the vaccines were available in Texas, we began spending time with immediate family members and close friends. With the influx from Delta (and especially the high number of cases in Texas), we mostly held outdoor gatherings.
In the first year we only did curbside pickup for food, had limited outings with people outside and socially distant, did grocery delivery and pickup in curbside, and did not attend any gatherings inside. The only exception to this were a few small family gatherings where everyone remained masked. All of our child care providers have been advised to hide indoors with children until they are vaccinated.
My children have only been tested a handful of times due to their age and the fact that we have been so careful. We would definitely do regular home testing if they were in daycare. Although we have a wonderful support system, it has always been isolated to be in a state where extremely limited precautions are in place. I am very grateful that I was able to keep my children at home where my immunized family or a few trusted babysitters watch them.