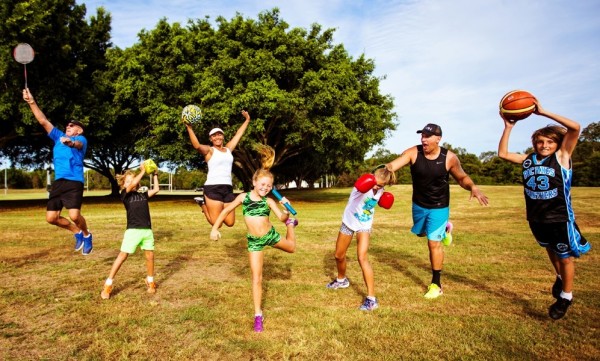 The Australian Sports Foundation (ASF) has published a study on the changing landscape of philanthropy in sport – identifying crucial gaps – and revealing significant opportunities to increase sport funding over the next decade.
Published today, the Give for sport; Towards 2032 Sporting opportunity for all through philanthropy report, aims to help stakeholders understand the dramatic impacts that
pandemic has had on the sport and recreation sectors – also identifies a $300 million per year funding opportunity for sport and community athletes.
Introducing the study, ASF Chief Executive Patrick Walker said "Community sport plays a vital and significant role in the Australian way of life and rebuilding communities in the aftermath of COVID-19 through its vast physical and mental benefits, promotion of social cohesion, and reduction of disease and stress.
"The results of our poll survey, conducted in June 2021, revealed a loss of $1.1 billion in revenue last year, 9,000 community clubs fearing insolvency and 61% of Australia's representative athletes experiencing a significant career break, loss of income and earning opportunities.
"ASF continues to make a significant contribution to the sustainability of sport in Australia, helping to raise nearly $51 million from philanthropic sources over the past year – a 16% increase on the last year.
"There is so much more to do and we want to use this report to demonstrate the vital role that philanthropy and the Australian Sports Foundation can play in creating a healthier and more active Australia."
Insisting that sport will play a vital role in Australia's recovery from the COVID-19 pandemic, Walker noted that "sport builds physical and mental health and brings people together in ways few can others do.
"COVID-19 has led to enforced inactivity and increased isolation, especially among our children and marginalized communities. There is so much more to do and we want to use this report to demonstrate the vital role philanthropy could play in creating a healthier and more active Australia.
ASF estimates that if amateur sport received the same generosity as the arts sector, there could be an opportunity for $300 million in philanthropic giving in sport. Although the arts have charitable status, amateur sport has yet to receive it, which means giving to sport can be more complex and donors are less likely to consider sport when making philanthropic decisions.
Walker pointed out that "sport receives little philanthropic funding compared to the arts, and it is time to accord charitable status to amateur sport in the same way.
"It would open up unlimited opportunities and enable more Australians to benefit from the health and social aspects of sport.
"There is a real opportunity for philanthropy to do more for sport, but it requires a change in legislation that would help to see how we value sport and its ability to significantly improve the lives of Australians – from physical health to physiological health."
With Brisbane 2032 on the horizon, the Foundation stresses the importance of acting quickly and ensuring that suitable pathways for young aspiring athletes are provided by adequate means
funding opportunities, adding "our call for change comes at a time when the sport has never needed more funding. COVID-19 has damaged the finances of sports organizations at all levels, and Brisbane 2032 will place new demands for investment on already cash-strapped organisations.
Speaking at a launch event at Ulverstone Showground in Tasmania today, Federal Sports Minister Richard Colbeck spoke about the importance of fundraising for local athletes and community sports clubs, commenting "The Australian Sports Foundation continues to play a central role in promoting sport at all levels across Australia.
"After a difficult time, clubs and organizations have reset and are looking to a brighter future.
"Never has there been greater need to expand the pool of philanthropic funding to help strengthen the way forward."
With Olympic swimming medalist Tamsin Cook, members of Ulverstone Soccer Club, Football Tasmania and ASF fund recipient, snooker star Lilly Meldrum at the launch event, the ASF sought to highlight that the sport community plays a vital and important role in the Australian way of life. and rebuilding communities in the wake of COVID-19 through its vast physical and mental benefits, promoting social cohesion, and reducing disease and stress.
Over the past 30 years, ASF has helped thousands of clubs and athletes raise hundreds of millions of dollars, funding all sports at all levels. ASF is the only organization in Australia to have deductible sport donation recipient status and currently acts as leading commentators in the area of ​​amateur sport philanthropy.
Click here to see the full Give for sport; Towards 2032 Sporting opportunity for all through philanthropy report.
Main image courtesy of Gold Coast City Council.
Related Articles
November 23, 2020 – The 2020 Creative Partnerships Awards recognize leaders in philanthropic and commercial art
March 11, 2022 – 11 sports organizations secure funding for infrastructure projects across Australia
March 8, 2022 – Regional Sport Victoria announces the appointment of a new General Manager
March 5, 2022 – 12 national sports organizations team up with Pride in Sport to launch a new collective
March 4, 2022 – revolutioniseSPORT launches 'next generation' websites for thousands of Australian sports clubs
November 18, 2021 – Parents are withdrawing their children from Victorian community sport due to vaccination rules
25 October 2021 – Cricket Victoria informs stakeholders of vaccine requirements for the resumption of community sport
October 22, 2021 – NSW Government publishes report on the use of synthetic turf in community sport
October 12, 2021 – The National Sports Convention will highlight the transformative potential of community sports and recreation facilities
October 8, 2021 – revolutioniseSPORT launches a visual newsletter creator for community sports organizations
September 21, 2021 – ASF report says community sports clubs face uncertain future and financial strife
August 9, 2021 – Y NSW calls on the NSW Government to support the survival of the community sport, water sports and recreation sector
April 29, 2021 – Research shows increased participation of Victorian girls and women in community sport
July 22, 2020 – Australian Sports Foundation investigation finds coronavirus has taken $1.5 billion from community sport
July 2, 2020 – Report shows small businesses are backbone of community sport
June 13, 2020 – Community sports clubs face financial ruin as revenue streams hit by impact of coronavirus
24 May 2020 – Sport Australia launches toolkit to guide safe return of community sport
September 21, 2021 – New PwC survey reveals the state of the global sports industry
February 16, 2021 – World Sports Week focuses on the challenges facing global sport
---
Support our industry news service
We hope you enjoy the news we post, so while you're here can we ask for your support?
As an independent publisher, we need reader support for our collection of industry insights, so ask – if you're not already – to support us by subscribing to the print version. Australasian Leisure Management magazine and/or our online news.
Click here to see our subscription options.