Shine a Light on Mental Health: Eastern Girls Swim / Dive Team Project Honors Teammate and Coach | Local News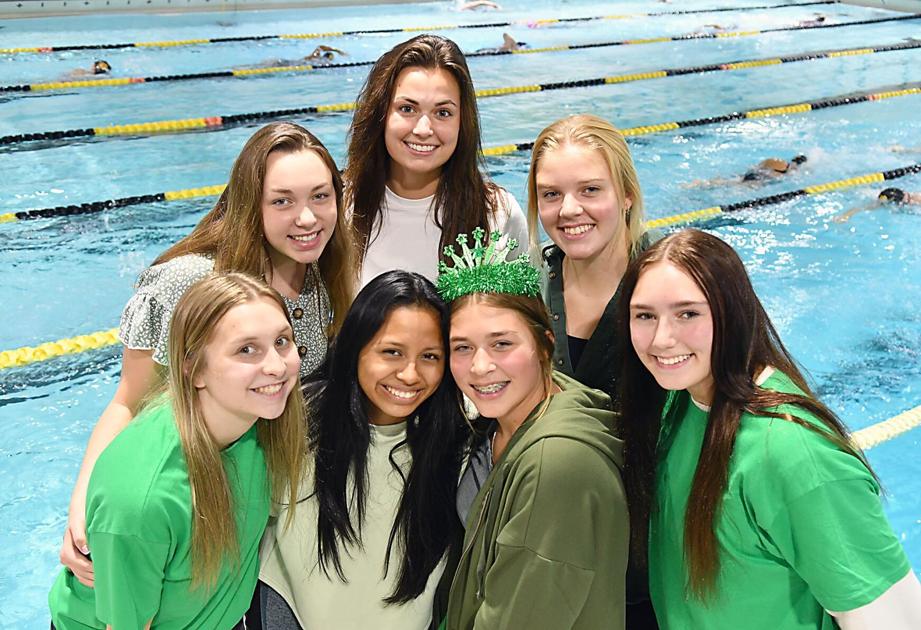 [ad_1]
Mourning two tragedies in the span of six months, the Mankato East Women's Swim and Dive Team is raising awareness and fundraising for mental health causes this season.
The team sell bracelets commemorating teammate Mara Hoffner, 13, and coach Hannah Plaisance, 25. Both have died suddenly in the past year, Hoffner in May and Plaisance in November 2020.
Proceeds from the bracelets will be donated to Horizon Homes, a local mental health care provider. Strong support at Thursday's 6:30 p.m. East meeting will help the cause.
For the team, the project is to honor Hoffner and Plaisance while also bringing conversations about mental health to the fore, said Sadie Burns, team captain and senior at East.
"We want to keep their memory and keep their light in our hearts," she said. "… Our main message we want to get across is that it's okay to disagree. It's good to need help; that's when the conversation really begins.
Each bracelet will be green, reflecting the color used for mental health awareness. One side of it will say "in honor of Mara and Hannah", and the other will have "mental health awareness" and "#stopthestigma".
The idea first came about when assistant head coach Emma Noren met seniors Burns, Parker Beavens and Samantha Molina over the summer. Their idea for the bracelets and a dedicated Hoffner and Plaisance swim competition has become a team-wide effort, with an increased focus on mental health throughout the coming season.
"We all thought the same," Noren said. "We were all on the same page.
This season, Noren put together mental health care kits for girls, which included journals to express their thoughts in private. She and her team also do weekly mental health checks.
In addition, a mental health advocate recently came to speak to the team. Molly Dose, the speaker, spoke about the grieving process, suicide prevention and mental health resources available to people.
Tears flowed, Burns said, but it was helpful.
"It made me more aware of being a better communicator with my friends, family and classmates," she said of the team's focus on mental health. "Check with each other. We never really know what people are going through.
Clare Braswell, a ninth-grade student, friend and teammate of Hoffner, said the dive and swim teams did not have as much bond before the tragedies due to the separation of practices and events. The loss of Hoffner and Plaisance, who was a diving coach, has been a game-changer in recent months.
She hopes Thursday will bring more friendliness to the school and community level.
"I hope a lot of people from the school will come so that we can see a community come together, even five months after Mara passed away and almost a year since Hannah," she said.
From a coaching perspective, Noren feels that putting more emphasis on mental health this season has brought her closer to the team. Talking about it allowed us to better understand what they are going through.
Noren has spoken openly about her own experiences with mental health. As a teacher for the first time last year, she was diagnosed with anxiety.
She talks about it. If the students have someone they can admire with a mental health issue, Noren said, then hopefully it will make them more comfortable being open about it.
"This support is so important," she said. "It can help you a lot more."
As was so often the case elsewhere in society, being open about mental health issues was not common in sports for decades. Gradually, more and more high school, college and professional athletes feel empowered to share their mental health stories.
In East, posters put up around the school by girls listing information about mental health. They are one of the many high school teams encouraging spectators to take "green outings" at their events lately, where everyone wears green to raise awareness about mental health.
The exchange of the home team colors for the green and other initiatives to mark mental health awareness is also taking place at Minnesota State University. MSU football coach Mara Hoffner's father Todd Hoffner said a student-athlete advisory committee held awareness events on campus this month.
Also known as SAAC, the student-athlete group called on fans to make "green outings" at all home games to kick off a mental health initiative in October on campus. SAAC ran a similar outreach project last year with green bandanas worn on campus.
"We ask all students / fans who attend any of the home games to wear some kind of green, instead of their usual purple and gold gear," SAAC President Abbi Stafslien-Dumale said, in a press release. "It will show that this is a campaign we can all come together for, regardless of background / sport / gender / etc."
The MSU football team and their next opponent, Wayne State, will both wear mental health awareness stickers on their helmets on Saturday. Anything that people can do to raise awareness will be helpful, said Todd Hoffner, as there is still a lot of work to be done.
"We talk about it more and more," he said. "It is becoming more normal, but far from the normalcy that we need to help people get through this."
The Hoffner family paid tribute to Mara earlier this year by donating $ 1,000 to the East Dive Program and K&G Gymnastics, two activities she loved. They donated an additional $ 1,000 to Prairie Winds Middle School for mental health education.
Todd Hoffner also encouraged people to research the Yellow Ribbon Suicide Prevention Program if they or someone they know needs help. The program partners with the National Suicide Prevention Lifeline, which people can call anytime at 1-800-273-8255.
Support for the swim and dive team's wristband collection arrived quickly once they started posting signup links over the weekend. About 350 orders had been received by the time of Wednesday's practice.
An order form for bracelets is available on tinyurl.com/3nnwrm2a. Burns, Braswell and Noren encouraged people to wear green for Thursday's swim / dive competition, where they can also register for the $ 2 or $ 3 bracelets.
The swim and dive girls plan to continue raising mental health awareness beyond Thursday's competition. It's a cause the team intends to advance, Noren said.
"We started dealing with it in the summer when the two days started, and we will continue to do it season after season," she said. "Our girls have shown so much this season that I think it's going to continue."
[ad_2]