What RealReal's fashion chief wears in a week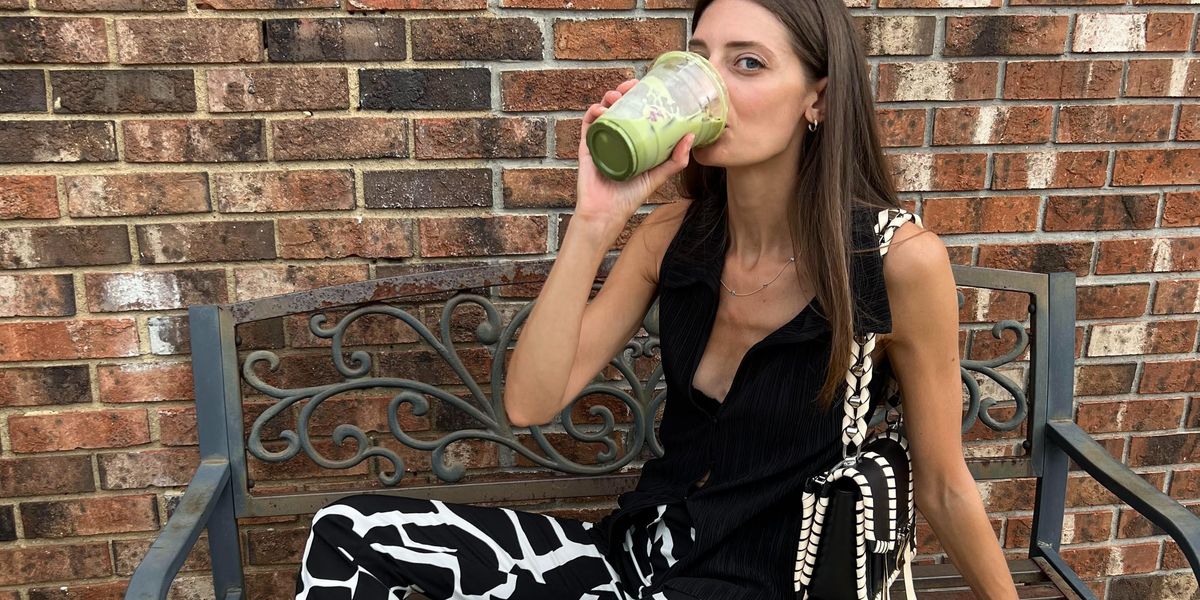 welcome to Style diaries, a series where we research the physical manifestations of our IRL closet visits. We're asking our friends and trendsetters to show us what they're *actually* wearing during the week and give us a sneak peek at their thoughts on the current state of fashion. This week we follow Noelle Sciacca, The real realThe fashion of will guide you through a week of work, events, brunches and more. Unsurprisingly, almost everything she wears is vintage or pre-owned, which she then styles in a way she calls "classic with a twist."
Look 1: At work
Dress: Dodo Bar Ou; Boots: Vintage;
Photos: Courtesy of Noelle Sciacca
"This is [what I wear] when I have a presentation and want to feel ultra-professional. It's kind of like a power suit, because it's actually a dress with a belt. The first time I wore it, my sister said I looked like Carmen Sandiego. It was the best of compliments. I really feel like I'm in power mode at work. These are vintage boots. I think everyone should have a pair of tall boots, especially as they go from season to season. It's the perfect solution for that tricky phase between summer and fall when you don't want to wear tights with a skirt or dress. Honestly, I wear them all the time.
Buy the look:
Look 2: A professional event or a coffee run in the morning
Best vintage; Pants: John Galliano; Shoes: Manolo Blahnik; Bag: Proenza Schouler;
Photos: Courtesy of Noella Sciacca
"These are actually John Galliano Spring/Summer 2000 collection. I bought these for a work holiday event. I wanted something festive, but in an unexpected way, not the traditional glitter. Now, honestly, I find myself wearing them to the cafe all the time. I get a lot of compliments on them, but it's those compliments where you don't know if someone really likes them, like, 'Wow. Look at your pants.'"
Buy the look:
Look 3: Out of order
John: Simon Miller; Above: Rosie Assoulin; Shoes: Studio Pollini; Bag: Bottega Veneta;
Photos: Courtesy of Noelle Sciacca
"These are Simon Miller jeans that I bought a while ago. They are my favorite pair. Interestingly, they were lower than I originally thought, but the tides turned in that direction, so it was perfect. Their figure is great. Then the top is Rosie Assoulin. I don't know if it's meant to be a cardigan, but I wore it over a silk top like a cardigan. Then in the summer, I can just wear it sleeveless. The shoes are these Studio Pollini wedges that my neighbor, who is maybe five years older than me, wore in high school in the 2000s. She was cleaning out her closet, and I I was like, 'Wait, wait, wait. I need them. Green is everything. The fact that they're wedges – I was just very into them.'
"Actually, I bought this [Bottega Veneta bag] as soon as Daniel Lee arrived. The [intrecciato weave] became a trend again, and I was like, 'Wait a minute. We have such an amazing product on The RealReal. It's like old Bottega. I first bought it just to have a pocket for my work bag, but then I started taking it when I went out.
Buy the look:
Look 4: Brunch on the shore
Top: Missoni; Skirt: Helmut Lang; Bag: Miu Miu; Shoes: Nanette Lepore;
Photos: Courtesy of Noelle Sciacca
"Honestly, if I look through my obsessions on The RealReal, probably 50% of them are Missoni right now. I know in the primary market, Missoni isn't necessarily making a big comeback, but something happens and I I have all the product at the moment, it's already in my closet. So, it's a Missoni top, a Helmut Lang leather mini skirt. Mini skirts are coming back, but the last time I really wore mini-skirts, it was denim. I thought, 'let me just go up a level and go for a leather one.' I was really happy with this choice.
"I don't have a uniform, but I have some sort of routine or style phase. I will go into outfits and repeat them over and over again. I have worn this skirt over and over again. I went down to the shore and had brunch with friends, but I probably wore it every time I went to brunch this summer. I love it, so I'm going to enjoy it. Then the Miu Miu bag which I also received from The RealReal. When I saw it I knew it was the perfect combination of everything I want in a bag – the crescent shape, the metallic texture.
"The shoes are Nanette Lepore. Back to my beginnings as a fashion editor, this show was part of my rhythm. I used to cover swim week in Miami when I was in Fortunate. We were having lunch with Nanette, because she was hosting a handful of editors and she had given us these sandals. To be honest, they were in my closet and I forgot about them. Recently, I wanted flatforms and realized, "Wait, I have flatforms. Once in a while, you're glad you saved something.
Buy the look:
Look 5: The wedding guest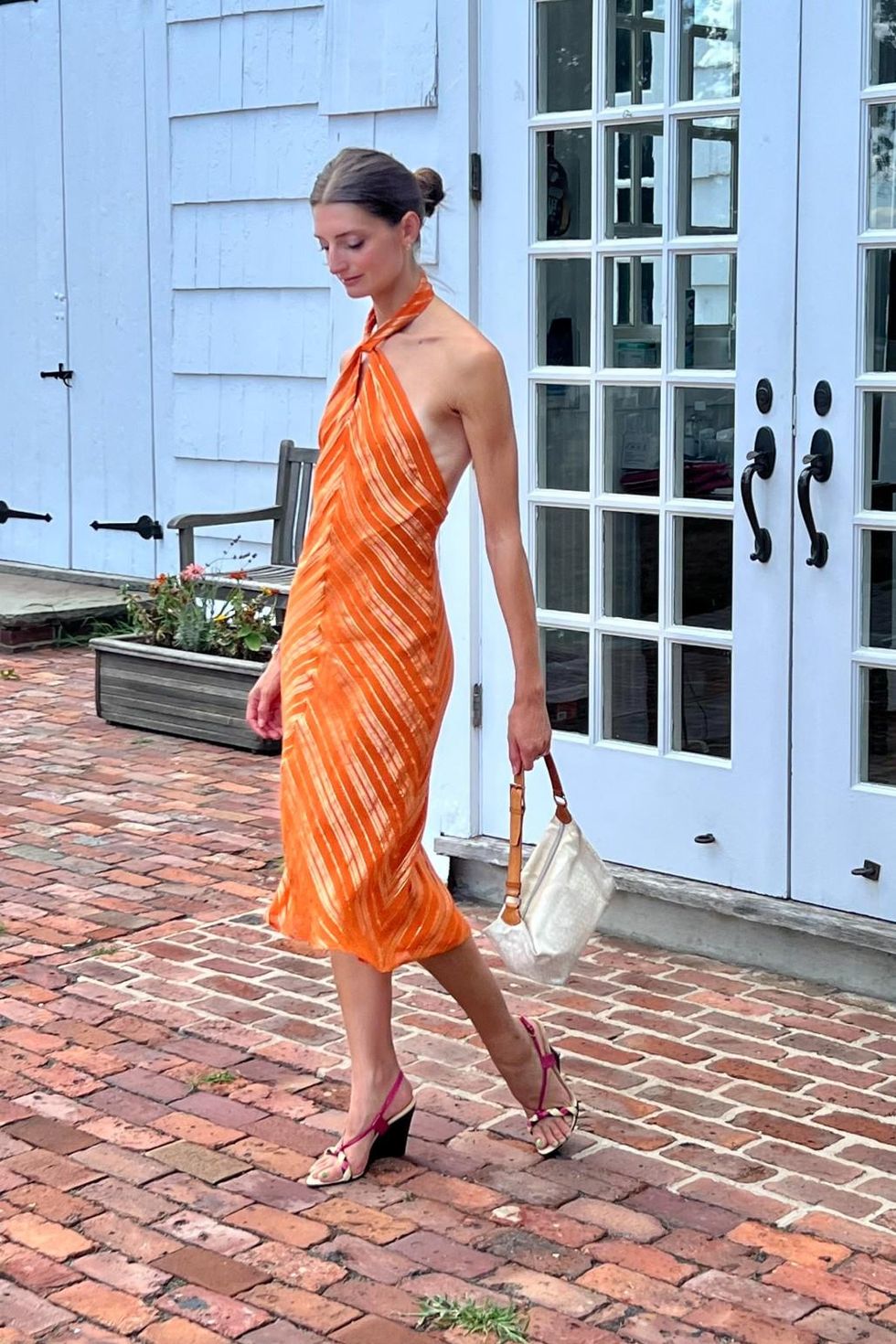 Dress and shoes: Vintage Celine; Shoes: Miu Miu;
Photos: Courtesy of Noella Sciacca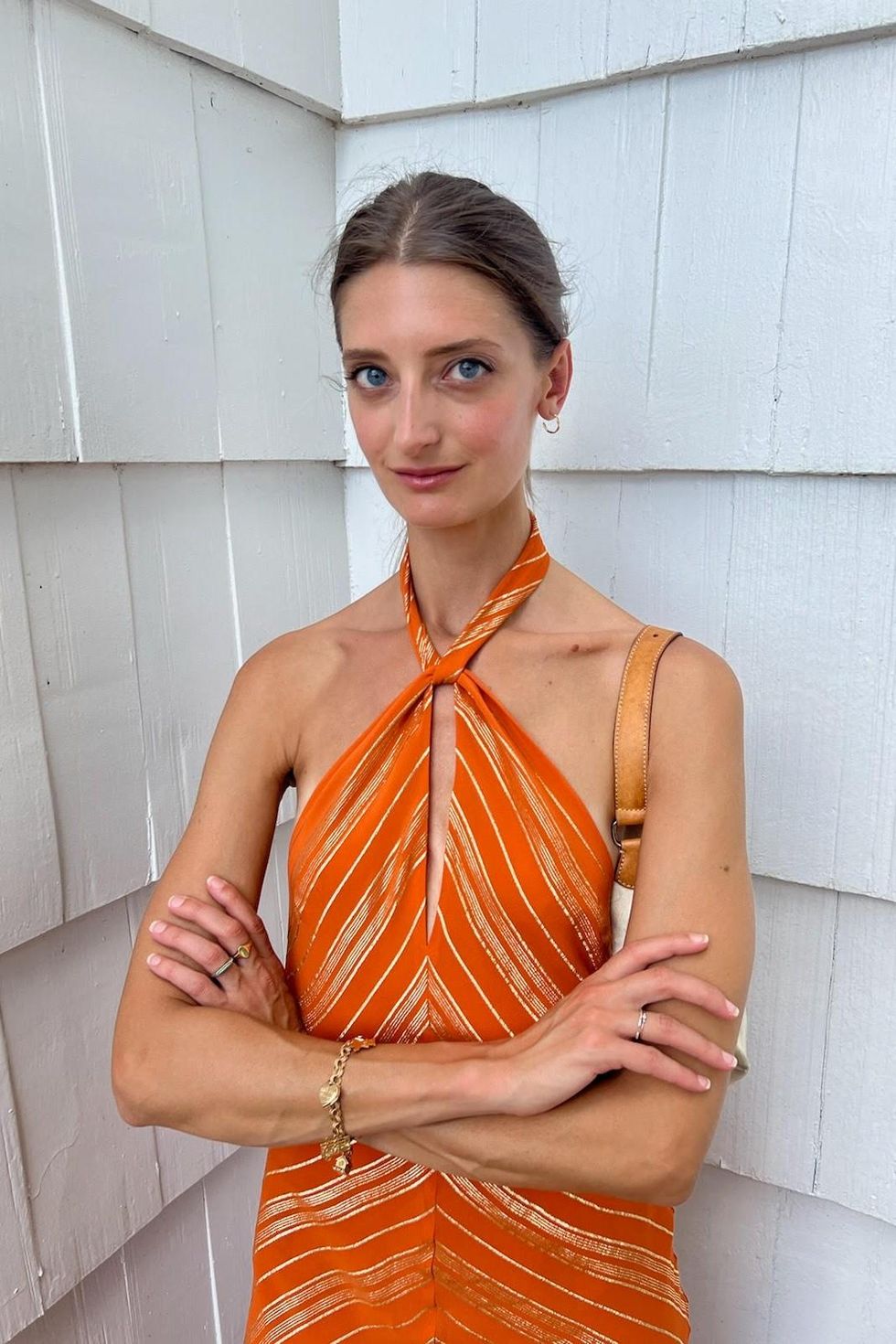 "It's a vintage Celine dress. I think it's Michel [Kors era]. It was during the height of the lockdown and my co-worker was like, 'Hey, you gotta have this'. It's so you. I bought it. Especially when shopping second-hand and vintage, if you fall in love with something, don't wait for an opportunity to wear it. Buy it – and I'm so glad I did, because there were so many occasions to wear it this season. You want something that looks different, not everyone will have it, but still looks like you, and you'll feel comfortable moving in. It was the perfect dress. This bag was kind of that perfect neutral that I could wear everyday, but also dress up. It's a head-to-toe ode to old Celine here.
"I was wearing a charm bracelet. All the jewelry I wear is very minimal. I usually wear the same thing every day, but it's unbranded. This bracelet, in particular, is my mother's. She had it when she was a little girl. Her aunt gave her different charms for different occasions. I also borrowed this from him some time ago.
Buy the look:
Style Notes:
I know it's really, really hard to sum up a sense of style in just a few words, but could you describe what you gravitate toward when adding items to your own collection?
"I thought about this one – and it's tricky – but what I found is classic with a twist. Either it's a classic silhouette, like a simple pant or a simple top silhouette, but it's there's something interesting or unexpected about its print or color, or if it's a silhouette that feels more sculptural or architectural, I usually end up going for a more neutral color palette. I always like to have some kind of unexpected element, but ultimately, a classic approach.
In addition to that, tell us a bit about your lifestyle and what you really need to dress for on a regular basis.
"We have been working remotely for some time now on the East Coast branch of RTR, but we have occasions where we have work events. It really makes me want to dress up and [skew] even more professional than I was before leaving the office. I have a new desire to put on a heel, to put on something that feels a little more structured than before. There are definitely pieces of my wardrobe that were taken out that I brought back. But I also dressed for the "everyday". I was wearing giraffe pants for coffee before work one day, and I was like, "That's fun." Everyone was sweating, but I was like, 'You know what? I want to get dressed to get some matcha.
"I needed more event dressing options this summer than in the past. I think ultimately I retired buying anything that feels more casual or like party clothes relaxation for things that make me want to dress up and push myself in my personal style.But as my style evolves with me, there is still [an element] it's true for me, so it's interesting to see that [process]."
As someone who eats, sleeps, breathes fashion in a more professional sense, I'm sure your job also involves cataloging trends, keeping tabs on what's popular and how that cycle is changing. How do you distinguish between that and your personal style? Do you find yourself emulating these trends or do you like to stay in a path that moves at a slower pace?
"It definitely plays into my style. It's so much part of my job, but I think it's part of my job because I'm passionate about it, like the recent Coperni show for Fall '22. I saw it and my heart skipped a beat. It's not Couture or anything, but I'm immediately like, "I want these mini skirts and knee high socks." There are elements like that that, yes, I want to incorporate, but at this point in my life, I also know what silhouettes complement my body and what gives me the most confidence. It's about taking those trends and interpreting them with what works best for me.
Have you ever enjoyed testing out a trend you work with in a work environment?
"I really like doing this, especially if I'm on set and have the opportunity to test it. When our office was above the TRR SoHo store, I would ask the dispatchers who send the product to the store in 'send some things there. I might try it before somebody buys it. Sometimes there are things that I'm excited about, and then I give them a spin and I'm like, 'Actually, I don't feel not very good in that. It's for someone else but not for me.'"
Do you wear vintage or second-hand or do you have a mix of current pieces?
"It's basically all of RealReal. I guess that's one of the great benefits, but also losses, of the work – seeing the product all day, every day. My colleagues and I are such a bad influence on each other. We will discuss links with each other. By the nature of having my hands in inventory all day, I kind of forget how to shop in the primary market. I don't even really know what to look for, because my way is just organic. Something pops up and I'm like, 'I need it,' or I'll see something, I'll be obsessed and I'll save it."
Then the last piece of the puzzle, what is your daily hair and makeup look?
"Pretty easy. When I went to the office every day, I blew my hair, straightened it, then curled it. Now I've decided to just embrace my natural texture, which I've found actually a little wavy – don't stay straight when you don't straighten it. It's pretty amazing to see that. I use Calia Shampoo and Conditioner so what Crown Affair Hair Oil. I just put a little in the ends of my hair to tame frizz.
"Then for skincare/makeup, I use the La Roche-Posay eye contour cream. So Deserved to put on makeup. I've been on this kick, just testing everything. I guess if I'm going out I'll put on eyeshadow and mascara for an event, but otherwise it's pretty simple.